Thank you for your interest in Happy Hills Resort and our "in-house" trailer sales.
We are a bustling park with a great group of clientele and many more actively pursuing entry.
Currently, we are unable to offer seasonal sites to campers looking to bring their own trailer into our resort. We do however, have sites open for our "in-house" sales of travel trailers and park models.   Also available are several re-sale units for purchase. If you are considering a new or used travel trailer or park model, please consider our in-house services. On new units we have our popular Happy Hills Resort Ultimate Vacation Package (HHRUVP)   which includes discounts on seasonal camping, complimentary mini golf, complimentary 9 hole golf and complimentary day passes!  We look forward to discussing which option works best for you.
Thanks for checking us out!
PLEASE SCROLL DOWN TO VIEW TRAILERS FOR SALE
SEASONAL INFORMATION
2021 HAPPY HILLS RESORT ACCESS FEE PROGRAM
This program applies to all future seasonal site occupants entering our Resort.  The Resort Access Fee is fully refundable upon future sale of your trailer or removal from Happy Hills.
It is intended to stabilize the market value of trailers situated on rented sites.  It will also prevent excessive valuation increases on assessed units within our Resort.
The Resort Access Fee breakdown is as follows:
| | |
| --- | --- |
| Sites under 3,000 sq.ft. | $2,000.00 |
| Sites between 3,000 and 4,000 sq.ft. | $3,000.00 |
| Sites over 4,000 sq.ft. | $4,000.00 |
| Sites over 5,000 sq.ft. | $5,000.00 |
| 9 month and extended stay sites | $10,000.00 |
As mentioned above, the fee is refundable upon future sale or removal of your trailer from our park.
For further information please e-mail us at thebakers@happyhills.com or contact the office at 519-475-4471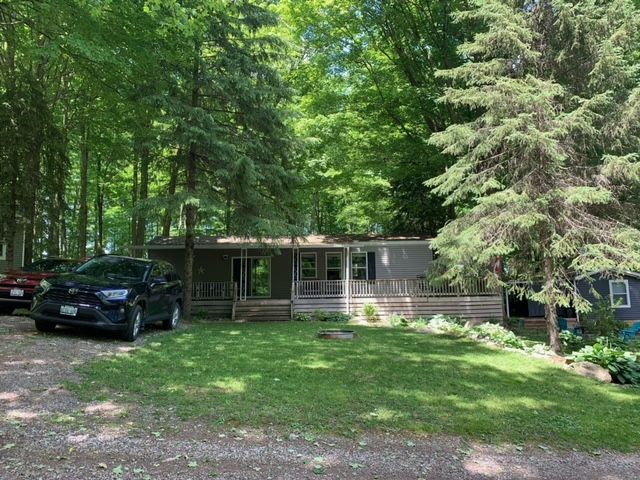 2014 Harmony Homes
Length: 14′ x 44′ 
Bedrooms: 2
Location: 115
Price: $99,900.00