Reservations
Thank you for your interest in staying with us at Happy Hills Resort!
We are open for reservations for the 2024 camping season. 
Reservations are made a year in advance. If you are looking to book for the summer of 2025, once we reach the time frame you are interested in in 2024, you are able to reserve for summer of 2025. Have any questions, give us a call and we can tell you exactly when you need to pre-book for your next camping trip. 
September brings a quieter month of camping here at Happy Hills. Many of our staff have returned to school so the pools, hot tubs, daily crafts and activities that take place throughout the summer are now done for the season and Spanky's is closed as well. You are still able to enjoy the petting zoo, wagon ridges, mini golf, driving range, jumping pillows, R.C. track, ball hockey pad, bike ramps, various playgrounds throughout the park and much more. We look forward to you camping with us this fall.
FAQ for Online Reservations

I want to book more time than I am allowed?
Start by booking a minimum of 2 days on the same day of the week you want to begin your trip for next year. Then you may call the office at 519-475-4471 each day to extend further by one day with no additional charges. If you wish to shorten your stay by changing your start date, there is an administration fee of $5 for each additional day when adjusting the arrival date.
When can I book for next year?
You can book online at 6:00am on the equivalent day of week or at 9:00am by phoning the office at 519-475-4471.
I'm getting an error pop up saying no sites available
First try creating an account profile. If you already have done this make sure you have added your phone number in your account settings. If it still comes up with the error message you may have already booked a site for that specific time frame. If you are still unable to proceed please contact Happy Hills Resort at 519.475.4471 to confirm that we are fully booked.
Can I extend reservations for my entire group?
One group member may call into the office and extend other individuals' reservations if they are pre-grouped. Extensions of a reservation can only be done by phoning the office at 519-475-4471. 
I'd like to make a group reservation
You must create an account for each individual family camping. This means that you need a name, address, phone number and email address for each family. You are not able to make all reservations under your personal account.
I have more dogs or people than the site allows
We have a dog policy of 2 dogs per site with a single or combined weight not exceeding 120 pounds.
Please call Happy Hills Resort at 519.475.4471 for assistance.
I am bringing in a golf cart for my stay, what do I need to know?
If bringing in a golf cart for your stay please ensure the following criteria are met:
Must be an electric golf cart
Contain working brakes, front & rear lights 
Contain your site number in 3″ tall numbers on both sides in a contrasting colour to the golf cart
A valid copy of insurance coverage specifying the golf cart must be provided to the Administration Office
You must book an inspection through the Administration Office before use within the park. Inspections are good for one camping season only. 
Season Length:
May 1st to October 1st
Closed for Thanksgiving Weekend
Pools:
Open for the Season – Friday June 14, 2024
Outdoor Family Pool Closes for the Season – Monday September 2, 2024
Crafts and Activities:
Begin for the Season – Saturday May 18, 2024
End for the Season – Monday September 2, 2024
Minimum Stays:
Throughout the week and on weekends there is a 2 night minimum stay. On long weekends, there is a 3 night minimum stay. Reservations for Cabins are a minimum 6 night stay during July and August, Monday to Sunday. 
Deposits Required:
For reservations NOT on long weekends, we require a 1 night stay plus the $10.00 non refundable reservation fee per reservation.
For reservations ON long weekends, we require payment in full for the 3 nights plus the $10.00 non refundable reservation fee per reservation.
Check In:
Check In Time is 3:00 p.m.
Check Out Time is 12:00 noon
Payment:
We accept MasterCard, Visa, Cash or Interac (we do not accept cheques). When making reservations online, payment is available only by MasterCard or Visa. Please note the reservation system is unable to accept Visa Debit at this time.
Cancellation Policy:
On completion of your reservation, we will give you a cancellation date of 1 week before your date of arrival. If you cancel before that date, we will return your deposit less the reservation fee. If you cancel after that date, you will not receive a refund.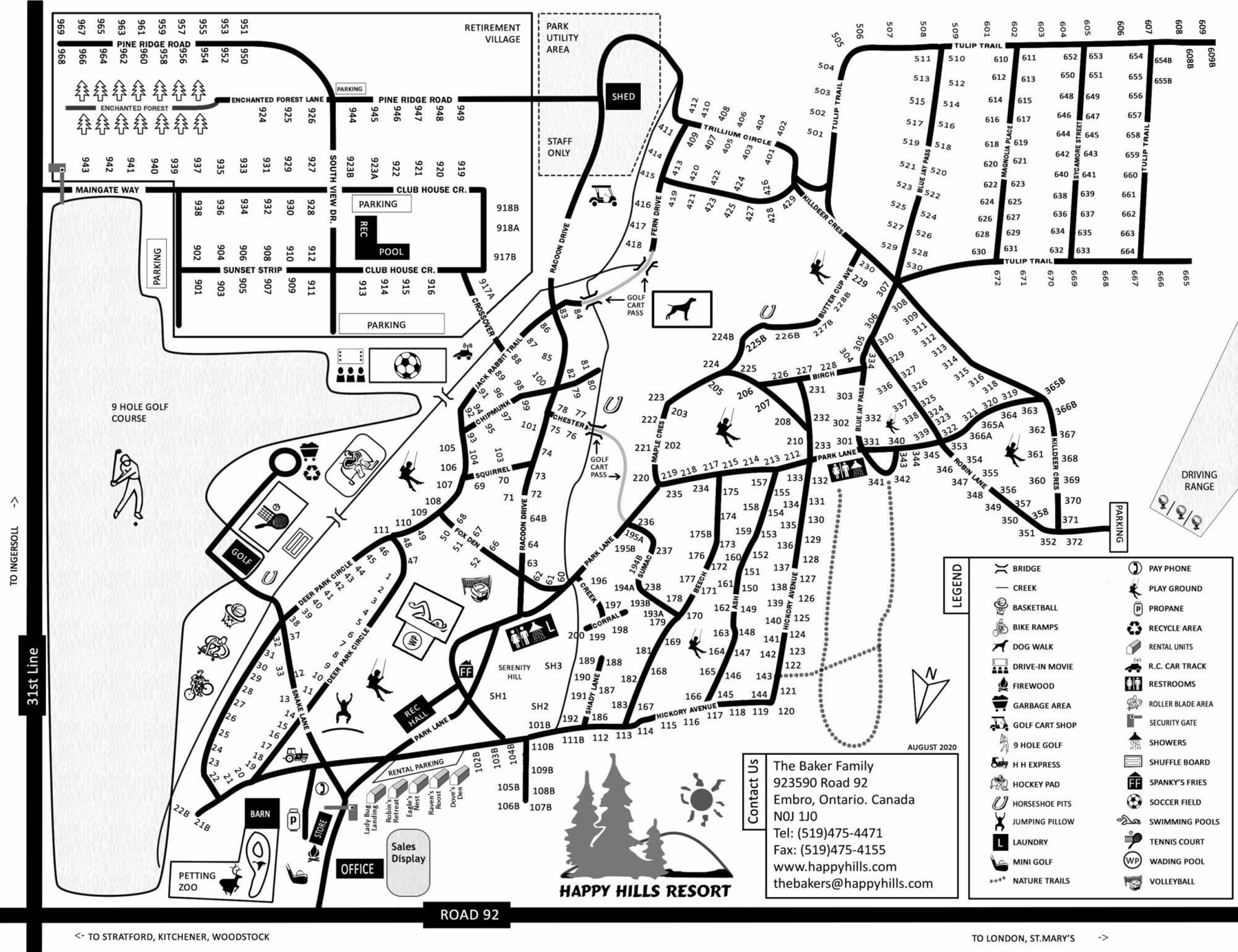 Activities for Children
Planned Activities
Hey Kids, don't forget to check out the Rec. Hall on rainy afternoons for some planned crafts and activities!!
R.R. #3 Rd 92 923590 Embro, Ontario. Canada. NOJ 1J0